2-day retreat with one Ayahuasca ceremony near Tena, Ecuador
AMAZON RETREAT
Welcome to Upper Amazon, the home of the Ayahuasca medicine, with beautiful primary forests, awesome rivers, waterfalls and rich indigenous culture. Pleasant temperatures, nearly mosquito-free.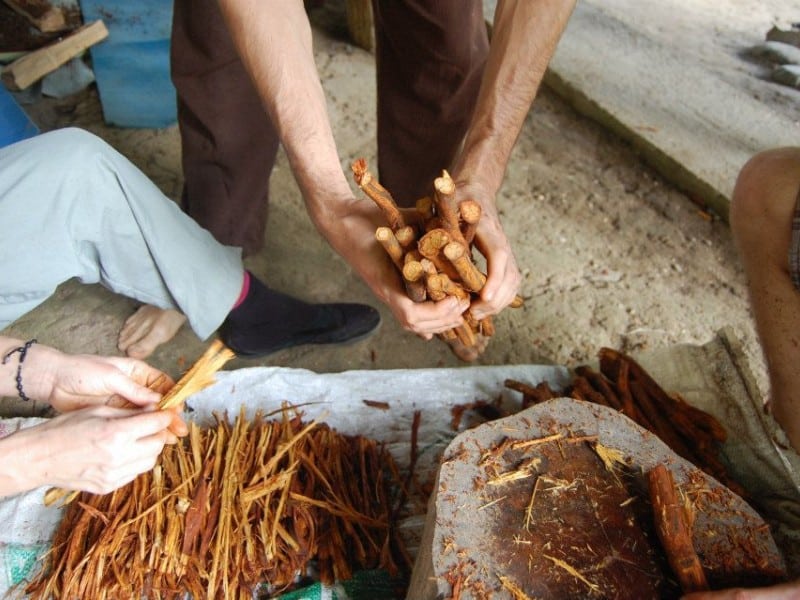 SAFE & AUTHENTIC
10 years of experience hosting Ayahuasca retreats: Safety protocols tested by time, experienced ceremonial leader, skilled assistants and safe environment. Both first-timers and Ayahuasca veterans friendly.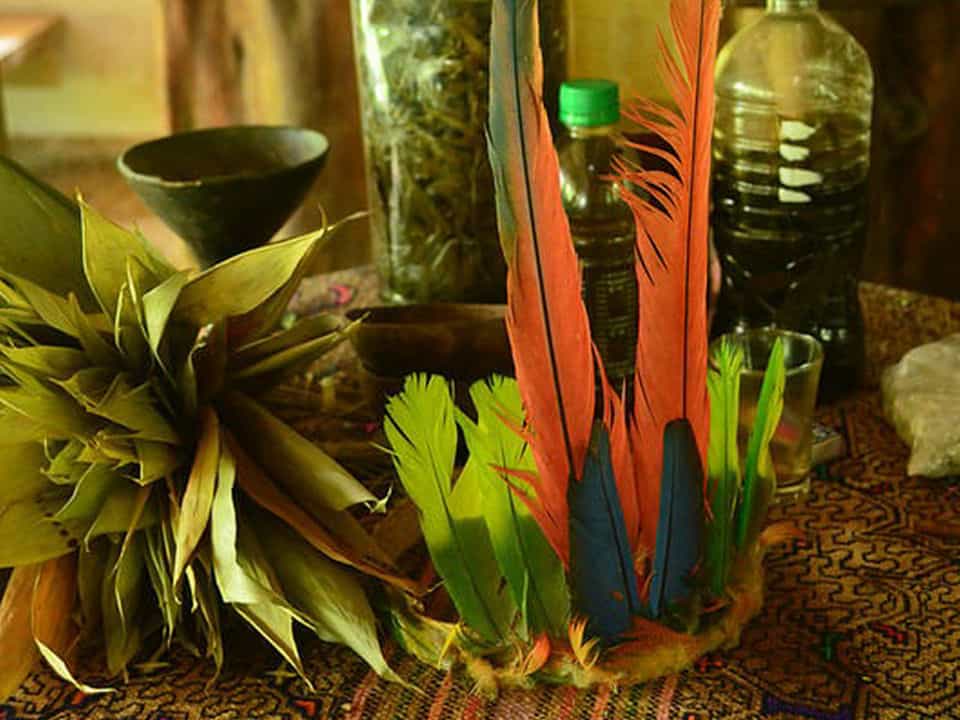 ASSISTED & TRANSLATED
English-speaking ceremonial leader supporting you in the transformative process, ready to respond to your needs. Preparatory session before the ritual and integration the day after.
SMALL GROUPS
Individual cleansing ritual for each participant in the ceremony, small retreat groups, authentic and intimate experience respecting the traditional culture and supporting the indigenous tribe.
2-day Ayahuasca retreat: Event overview
In this traditional ceremony you will be able to experience the benefits of all-night ancient ritual of Ayahuasca drinking, as practiced in the Amazon basin. You will receive individual cleansing ritual from the ceremony leader. This experience is all-included with transport, accommodation and meals, and you need 2 days (1 night) minimum to participate.
Itinerary of the 2-day Ayahuasca retreat
DAY ONE
5:00 pm – Meeting in Tena, introduction and basic information about the event
5:30 pm – Transport to the lodge (30 min by car, then 10 min walk)
8:00 pm – Preparatory talk before the ceremony
8:30 pm – Ayahuasca ceremony till 1:00 am
1:00 am – Resting in the ceremonial space or private accommodation till the morning
DAY TWO
8:30 am – Delicious breakfast
9:00 am – Questions and answers about last ceremony, prescription of the diet to follow the next days
10:00 am – Transport back to Tena or continuation with extra activities (see below).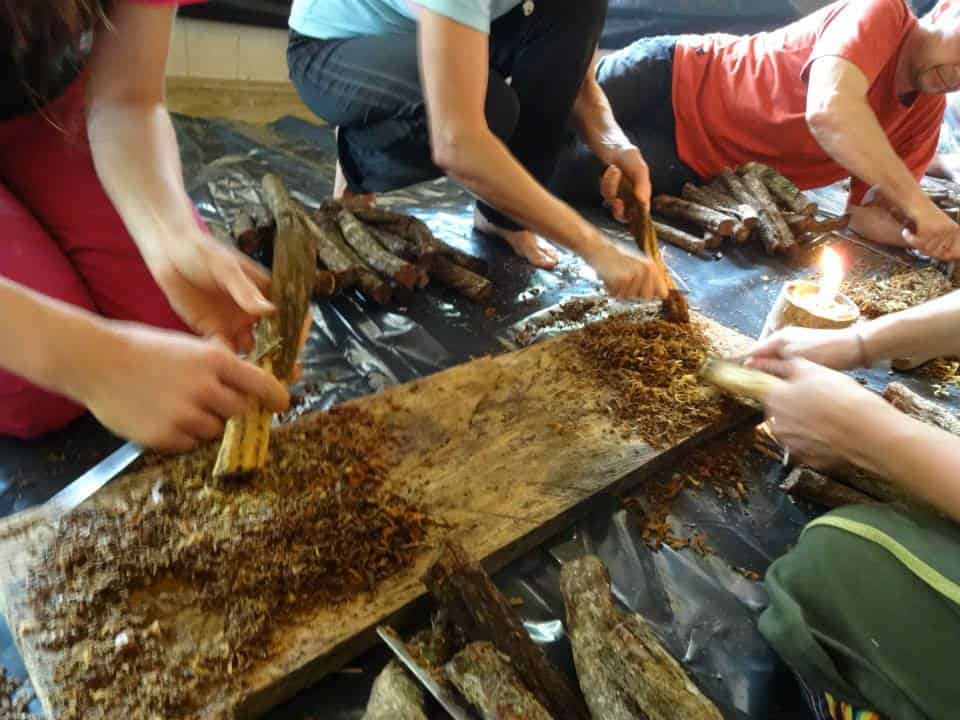 Work with the Ayahuasca medicine
It is recommendable only to people who feel the personal calling for this type of introspective work and have necessary respect for the plant and the sacredness of the ritual. This is not a tourist experience. It should not be taken lightly as a tourist attraction. This journey might not be pleasant in all of its parts, but at the end it is worth taking. The Ayahuasca ritual is deeply meaningful and healing for those who are ready and who have trust in the healing process with the Ayahuasca plant as well as trust the people who lead the ceremony. The Ayahuasca medicine can bring suppressed emotions to the surface, clean any negative energies and allow for deep change within oneself. Participants of the Feather Crown Ayahuasca ceremony can obtain positive results in the following areas:
·        Spirituality: Spiritual growth, enlightenment, universal truth, divinity, seeking, power animals, meeting spirits, soul retrieval, cleansing, straightening energy, chakra cleansing, past life regression
·        Mental Health: General mental health, mental abuse, emotional pain, past trauma, release negativity
·        Physical Health: General physical health, physical pain, physical abuse, sexual abuse, addiction
·        Health and well-being: Life purpose, career change, creativity, personal growth, learning, curiosity, heart center, connection with nature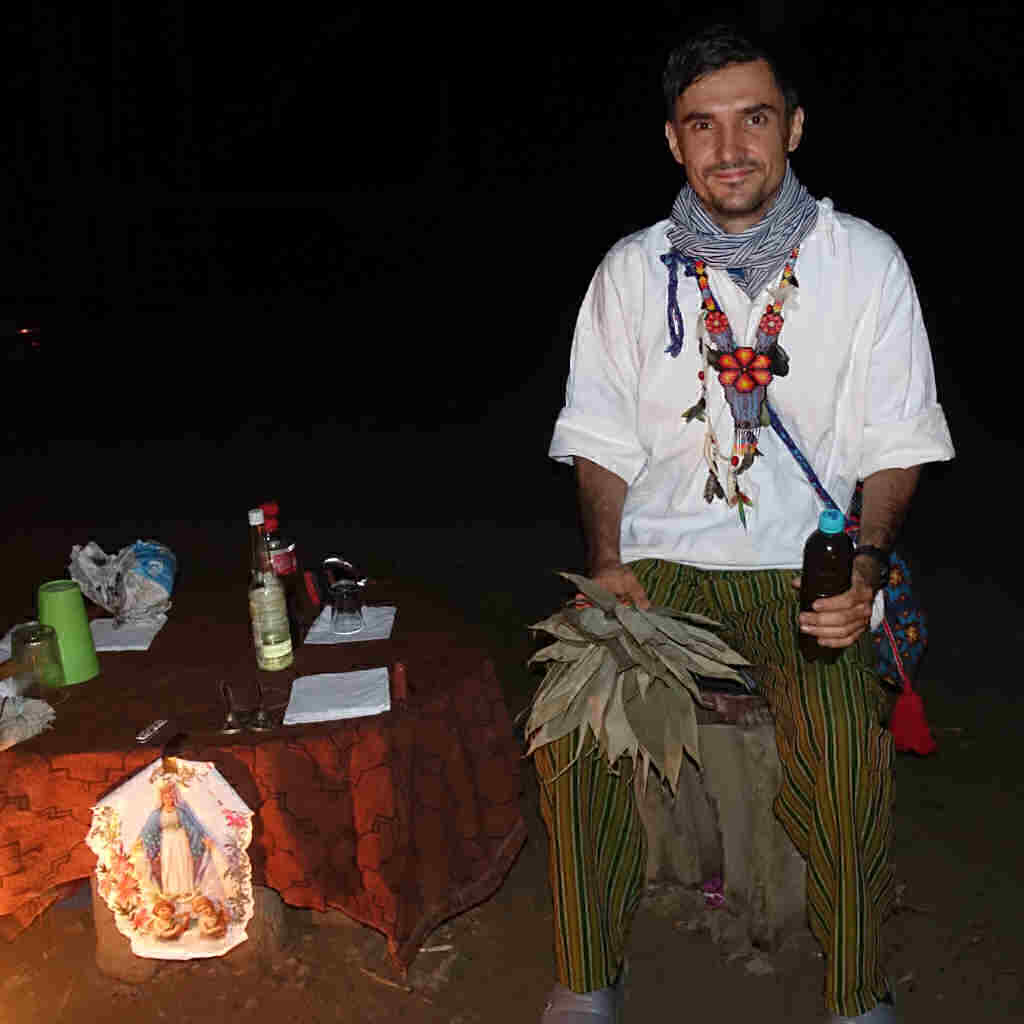 Who is leading the ceremony
Jan Rostlinka is 35 years old natural medicine practitioner of Slavic descent born in Czechia. For past 10 years, he has been living and practicing the Ayahuasca medicine in Ecuador, Peru and Mexico. Married into a family of a respected kichwa shaman in Napo, Ecuador, Jan is living with his wife and daughter in a small indigenous community on the banks of the river Jatun Yacu.
Jan studied with 25 shamans of different nationalities and did long-term apprenticeships within indigenous families, including those of Luis Andi Grefa (renowned kichwa yachak from Napo, Ecuador), Mateo Arévalo Maynas (elder shipibo onaya from Ucayalí, Perú) and Emilio Ramirez Sr. (elder shipibo onaya, Ucayalí, Peru). During those apprenticeships, he dieted a significant number of amazonian trees and plants. Jan also studied with San Pedro and Peyote shamans in the Wirikuta desert of Mexico. This proper training and connection to the ancient lineages enabled Jan to lead sacred rituals with expertise, resulting in healing benefit for all participants.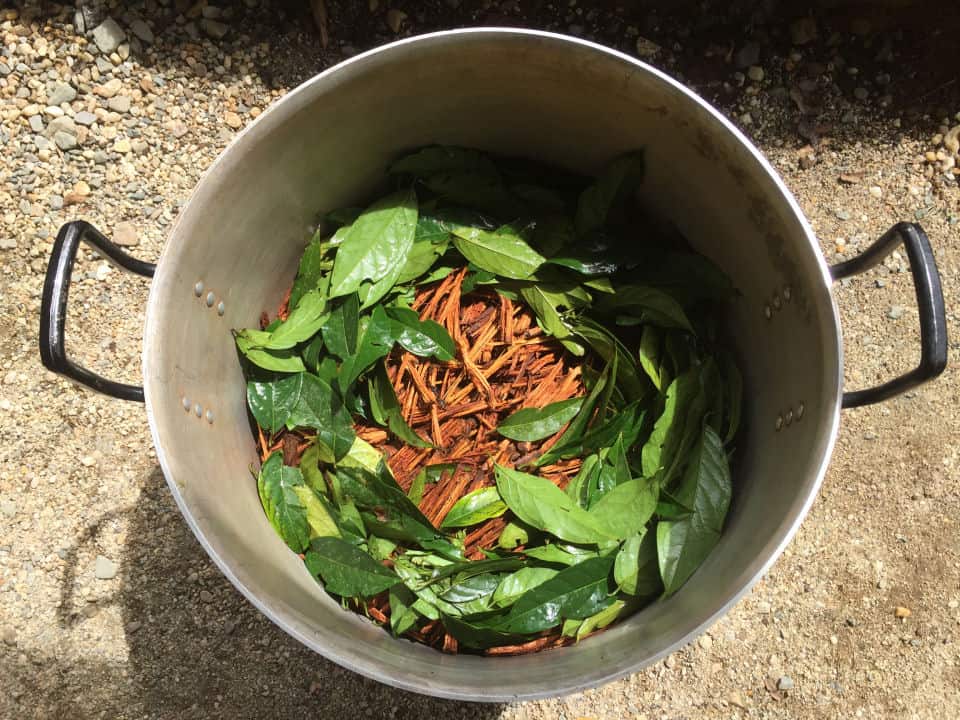 The Medicine
You will have the opportunity to work with a selected variety of the Ayahuasca vine. Usual Ayahuasca variteties are harsh on the body and produce strong nausea and vomitting, while having only mild psychoactive effects. Our variety is gentle to the body, yet produces strong mind-altering effects and, for those who are ready, possibly visions. It is prepared traditionally on fire using only two plants, the Banisteriopsis caapi (ayahuasca) vine and the Diplopterys cabrerana (chalipanga) vine. The latter plant amplifies the consciousness-expanding effects and helps one to receive visions.
About having more ceremonies than just one
It is beneficial for the participants to participate in more ceremonies than just one. Usually the first ceremony removes the heaviest negative energies from the energetic field and physical body and can involve purging. In the second ceremony, participants usually have more trust, because they already know that ceremonies are conducted safely and have positive outcome. Their bodies have already been purified in the first ceremony. This results in being able to relax more and work more consciously with the energy of the Ayahuasca plant. Third and fourth ceremony is perfect for learning how to concentrate in the trance with the brew, to receive visions, teachings and blessings.
It is important to know that between ceremonies it is necessary to have 1 night break from the medicine. In order to have optimal results from the ceremonies, you also need to recuperate your energy by eating, sleeping and resting properly. The optimal and maximum amount of ceremonies is 4 ceremonies in 1 week followed by 1 week of rest. Possible retreat schedule is as follows:
Day 1: First ceremony
Day 2: Break
Day 3: Second ceremony
Day 4: Break
Day 5: Third ceremony
Day 6: Departure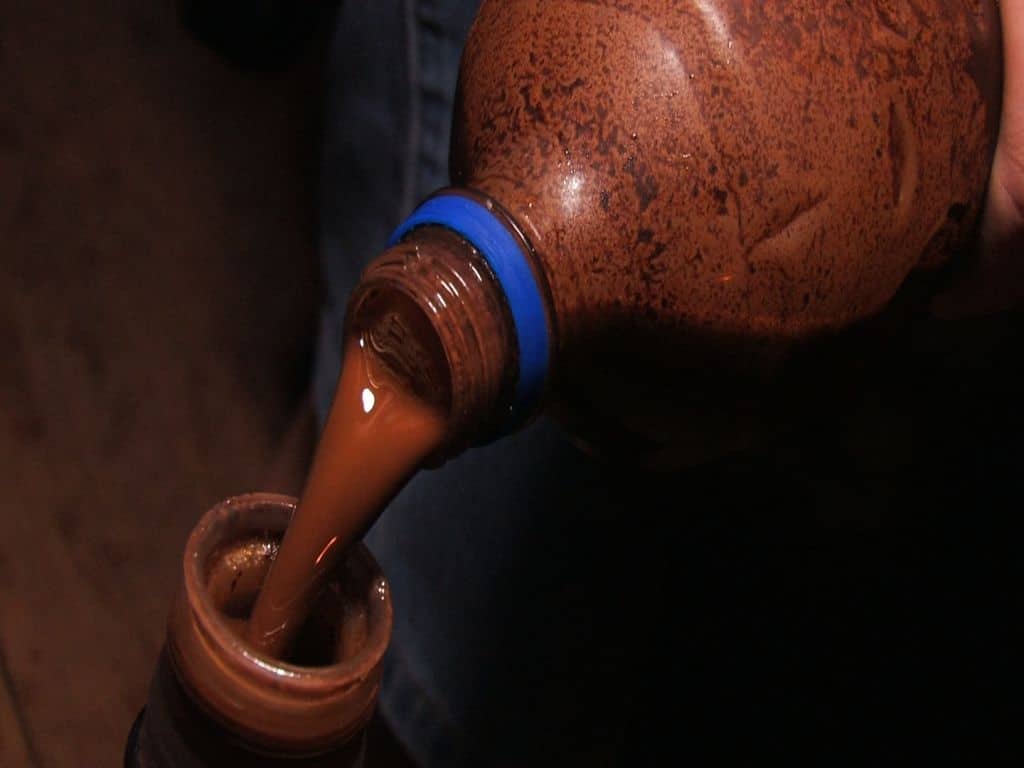 The ritual
Around 8 pm, after being prepared theoretically, participants drink the concentrated Ayahuasca medicine and then lay down on comfortable mattresses in the ceremonial space. As soon as the effects kick in, the ceremonial leader, who is also under the influence of the brew, begins to use instruments and starts to chant visions-modulating songs, guiding participants on this intensive journey. His task is to clean any negative energies that are purged from the participants and call spirit guides who provide compassionate, loving and healing energy for all who are present. Later during the night, participants are called one by one to come and sit in front of the healer to get cleansed by leaves gathered in the rainforest and by singing. The healer also uses blowing, sucking and other techniques aimed to help the patient. This cleansing ritual or "limpia" is the most important part of the ceremony, where energy of the participants can be balanced, and where different illnesses can be removed from the body. In case there any serious illnesses, the healer can deal with them towards the end of the ceremony.
Safety of the ritual
Sober helpers are always present during the whole ceremony to help participants walk to the bathrooms. The space itself is carefully prepared, physically safe and perfect for hosting such ceremony. In case of having strong reaction to the Ayahuasca, the team know perfectly how to help participants to go through their journey without any harm.
What differentiates us from other practitioners and centers
–         Ceremonies are small and intimate, usually 1-4 people, with rare 10 people maximum.
–          In our ceremonies women are respected and the environment is free of any sexual activities between the staff and the clients.
–          No use alcohol whatsoever is permitted at the lodge.
–          The ceremonial leader has proper training and is deeply caring for the wellbeing of all participants
–          Our foremost motivation is to provide meaningful assistance on your spiritual journey and help you to obtain better health, not profiting.
–          We work with strong and properly brewed medicine and the ceremonies are intense. We use the admixture leaves to make sure participants can go deep in the healing process.
–          We base our practice on 10 years of experience with hosting such events.
–          No knowledge of Spanish is required. Translations to/from English, Spanish and Czech are available.
Location and accommodation
We have carefully chosen an ideal place for hosting such a ceremony: A quiet and nature-surrounded private jungle lodge near Tena, Napo, Ecuador. This lodge is 100% indigenous Kichwa owned. Built from simple natural materials. Purified water, showers, comfortable beds, large ceremonial space,  short walk from river Napo.
Available dates
Please check our caledar below to see ceremonies that are already scheduled. You can also suggest a new date or join any scheduled ceremony unless it is marked as full. Please select a date that is outside of the 13-day retreats.
September

2017

Mon
Tue
Wed
Thu
Fri
Sat
Sun
Pricing
139 USD per person per ceremony
This price is all-inclusive per person per ceremony and offers:
Transport to the lodge where the ritual takes place (from Tena, Napo)
Accommodation in an eco-lodge for 1 night
Preparatory session before the ritual
The Ayahuasca cermony with individual cleansing ritual
Delicious breakfast
Questions & answers session with the ceremony leader
Discounts for groups of 4 or more participants.
The cost of any additional day of stay (without a ceremony) at the lodge with all meals is 50 USD.
Pay 50 USD now to book your space and pay the rest later.
We accept bank transfer, MoneyGram and Western Union.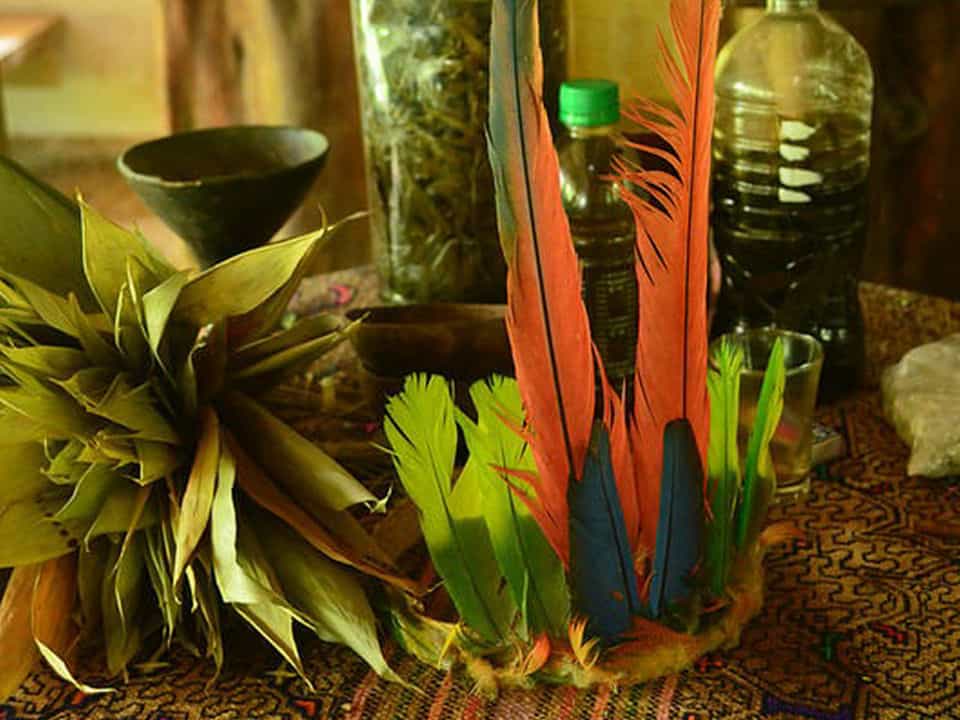 Extra activities
Your stay can be enriched by various activities upon your request:
·        Extra healing of specific illness during the ceremony. Techniques of energetic "sucking" by mouth, cleansing with leaves gathered in the rainforest and also massage is often used to remove illness residing in the body. $100 USD per healing session. Consultation before the ceremony is included. In some cases, additional medicinal plants are given to the patient to be applied during the days after the healing.
·        Apprenticing in order to become a healer yourself requires extra energy transfers, extra purification of the body using macerated plants and special songs to be sang. $100 USD per session.
·        The next day after the ceremony, special flower bath using many sweet-smelling plants helps to receive special blessing, good luck and loving energies. $10 USD per person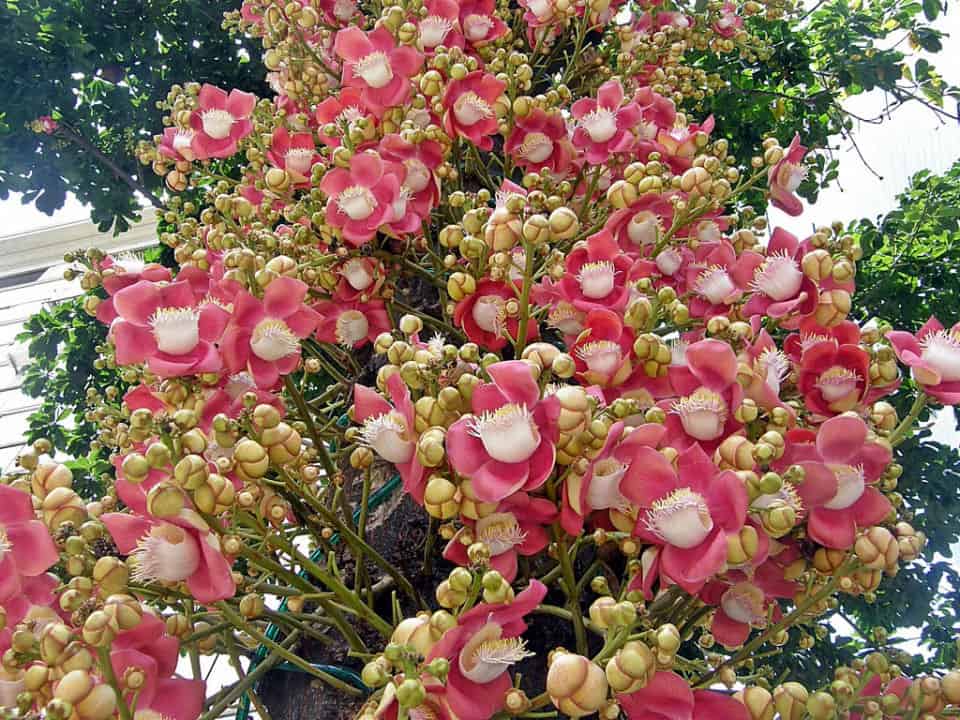 Requirements and Health safety
If you suffer from any disease or take any medicines, you absolutely need to inform us, as some medicines can be contraindicated with Ayahuasca. Taking Ayahuasca if you suffer from weak heart, a mental illness and certain other illnesses may be dangerous or even life-threatening.
Medications and supplements policy: The participants are not allowed to take any other medicines or supplements, including the natural ones, apart from Ayahuasca, except for anti-malarial medication and birth control, for the duration of the event, unless permitted by the organizer. If you are taking any medications or supplements that are prescribed by a doctor, you will need to consult your doctor about weaning you off them in time for them to completely clear out of your system before your visit.
Health conditions and risks agreement: Our events are held on places which are not medical facilities and we are not equipped to handle a serious medical emergency. Please inform us of any serious medical conditions that you have before you make your reservation.Due to potential health risks, people with the following health conditions will not be able to drink Ayahuasca. However, they can still partake in the ceremony without drinking and can receive the healing and cleansing ritual from the ceremony leader.
high blood pressure diabetes
schizophrenic disorder
heart disease or any condition previously diagnosed indicating vulnerability to the heart
epilepsy and other seizure related conditions
infectious or contagious disease
suicidal ideation
use of MAO inhibitors or anti-psychotic medication
Mental illness: Anyone in treatment for mental illness must consult a physician regarding the advisability of using Ayahuasca and if approved must cease taking any anti-depressants or mood altering medications at least 3 weeks prior to the trip.
Drug addictions: We do not allow people who are taking drugs to partake in our events. For treating serious drug addictions, contact us to arrange different individual type of work. Smoking cannabis r taking any mind-altering plants is prohibited during our events.
Menstruation: Please inform us if you are having your period on the day of the ceremony. It is possible to partake in the ceremony if you are menstruating. However, take into account that if you feel too much discomfort because of strong menstruation, it might interfere with your ability to concentrate and relax in the healing process.
Pay 50 USD now to book your space and pay the rest later.
We accept bank transfer, MoneyGram and Western Union.
"Thank you for the amazing ceremonies! After 4 sessions I feel completely reset and wonderful. Thank you guys for the incredible healing work and wonderful experience!"
Zi Wu
"If you're going to try Ayahuasca, I highly recommend Feather Crown for their safe, friendly, insightful and authentic approach."
Shivya
"The experience was perspective-altering in the best way. Feather Crown has been my most treasured part of this trip. "
Josh Thomas, NY